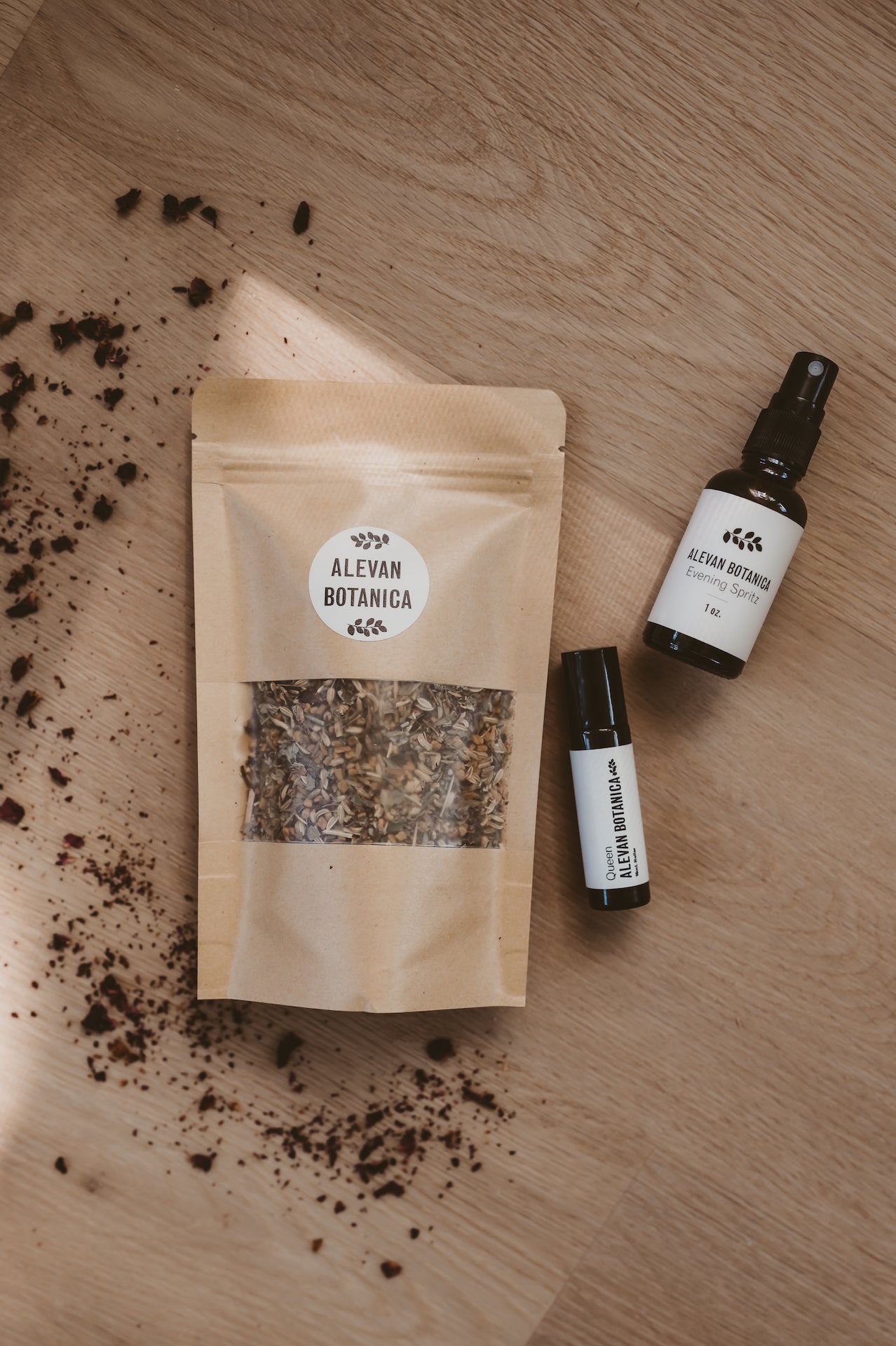 Bring balance and rejuvenation to your life after birth.  Designed to promote balanced emotions, mindfulness and calming energy. The Postpartum Set contains the following Alevan Botanica Products: Evening Spritz, Postpartum Mama Tea and Queen Roller Blend. A perfect gift for yourself or the mamas-to-be in your life!

Evening Spritz
Evening Spritz 1 oz: An aromatic spritzer made with the highest quality essential oils. Great as a body or face mist as well as a room spray in the evening to transition from work to home. 
PATCHOULI: Earthy aroma that grounds and centers. Great for meditation.
CLARY SAGE: Balances emotions. Useful for Vata and Pitta imbalances.
YLANG YLANG: Mood-boosting and anxiety-reducing. Soothes excess Vata and Pitta.
Postpartum Mama Tea

Postpartum Mama Tea: An herbal tea to enjoy during the fourth trimester after childbirth. Promotes nutrient replenishment, lactation and is naturally caffeine and preservative free.
This tea is a blend of organic red raspberry leaf, organic alfalfa leaf, organic nettle leaf, organic fenugreek seeds, organic fennel seeds, organic chamomile flowers & organic dandelion leaf; this blend is nourishing and hydrating to mama while being helpful for lactation.
Queen Roller Blend
Aura Roller Blend: A balancing and comforting blend to support women's health and balance hormones. This organic essential blend of clary sage, lavender, bergamot and geranium soothes pain, relaxes the body and indulges the queen in us all. Clary sage and geranium bring balance to body and mind, while bergamot uplifts mood.
GERANIUM: Soothes and enhances energy. Reduces Pitta and balances Vata.
LAVENDER: Relaxes and soothes. Sattvic and tridoshic.
CLARY SAGE: Balances emotions. Useful for Vata and Pitta imbalances.
BERGAMOT: Fresh citrus aroma. Mood-lifting and stress-relieving.